New From Rousseau's!

Art that fits your style, your space… » » 25% OFF « «
Over 3,000 images are available in just the size that fits your space – from landscape to floral to abstract, and more. These giclée prints can be printed onto paper or canvas. "Click here" to find out more.
Introductory Offer
Purchase your giclée online from Artaissance or buy directly from Rousseau's. Either way, Rousseau's will give you a 25% refund or discount on the giclée's purchase price when you place your framing order.
SHIPPING is FREE if you request delivery directly to Rousseau's.
Welcome to Rousseau's Fine Art Framing!

Store hours:
Monday - Friday, 10am to 6pm
Saturday by Appointment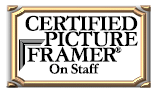 Over the years we have turned out thousands of beautiful custom framed
and matted items.
Although photographs sometimes do not do justice to 3 dimensional presentations, we think these examples of our work will give you an idea of the type and quality of framing that you can expect at Rousseau's Fine Art Framing in Novato, CA.
Please explore our menus above for more examples.
To see a larger version of any photo, just click on it,
then hit the BACK button on your browser to return.